Richard Thomas Davis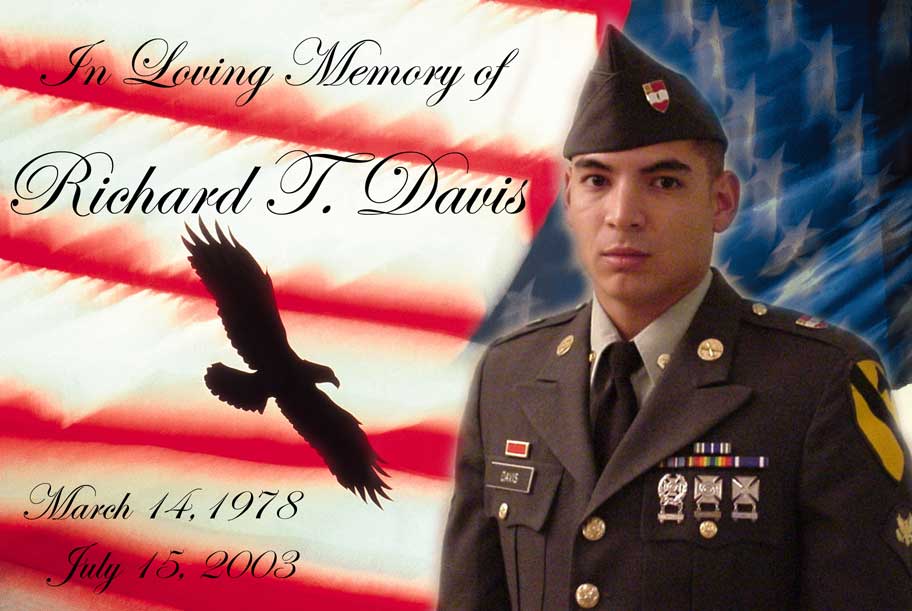 Laid to rest at Sunset Hills, Apple Valley, California

Richard Thomas Davis March 14, 1978 July 15, 2003 Richard T. Davis, 25, passed away July 15, 2003. He was born in Germany on March 14, 1978. He is the son of a military family and attended schools in Kansas, Missouri, and California. He excelled in reading and painting and enjoyed racing his electric-blue Honda Civic.


He lived in St. Charles, Missouri with his loving parents, Lanny Davis and Remedios Ong Davis and loving sister, Lisa Davis. After high school, Richard joined the US Army training in 1998 at Fort Sill, OK for basic training and field artillery and was stationed at Fort Hood, TX shortly thereafter. He later served in war-torn Bosnia. After September 11, 2001, he decided to leave the army. But, Richard later rejoined the Army in January 2002. He was sent to Kuwait for Operation Desert Spring in 2002 to prepare for the war in Iraq.


He was assigned to 3rd Platoon of Baker Company in 1st of the 15th Infantry, 3rd Brigade of the 3rd Infantry Division (Mechanized) and engaged in some of the worst battles in Operation Iraqi Freedom in 2003. He fought through 25 days of continuous combat in some of the most difficult conditions imaginable. He is awarded the Combat Infantry Badge, Army In-service Ribbon, NATO Ribbon for Kosovo, National Defense Service Ribbon, Good Conduct Medal, Army Achievement Medal, Army Commendation Medal, Armed Forces Expeditionary Ribbon 3rd Award, Presidential Unit Citation, and Weapons Qualification Badge Expert for his 8 years of service in the U.S. Army. He is a loving son, brother, cousin, nephew, uncle and friend, and will be truly missed by all who loved him. He is truly an American Hero.

Richard Thomas Davis Foundation for Peace

Lanny and Remy Davis have set up a Foundation in honor of their son. The Richard Thomas Davis Foundation For Peace will work as an outreach program to help all military families whose son or daughter have made it home from the war only to turn up missing or murdered. At the present, military red tape makes it almost impossible for these families to get the help they desperately need.


In addition, the foundation will work to facilitate change for the individual soldiers. The issuance of moral waivers have increased dramatically, allowing even violent criminals with gang ties and prior mental health problems to enter into service. Richard's death is a direct result of these low recruitment standards.

Although Richard's murder was not the result of PTSD, the Foundation is not overlooking the need to help in this regard. As it stands now, asking for PTSD treatment has a stigma attached to it and therefore many soldiers are ashamed to ask, for fear of being viewed as weak. This stigma can be removed. If the military takes the proactive step of making PTSD counseling and training mandatory, the same as weapons training, it will only serve to make our soldiers stronger and more resilient in both body and mind.


To volunteer and be a part of this important work, please visit the following website:


Paul Harris Show: Richard Davis, Murdered Soldier

Paul Harris talks with Lanny Davis, a Missourian who investigated the murder of his soldier son, Richard Davis, at the hands of other soldiers who served with him in Iraq. The story is the basis for the new Tommy Lee Jones movie, "In The Valleyof Elah."



IN THE VALLEY OF ELAH



Synopsis "In the Valley of Elah" tells the story of a war veteran (Tommy Lee Jones), his wife (Susan Sarandon) and the search for their son, a soldier who recently returned from Iraq but has mysteriously gone missing, and the police detective (Charlize Theron) who helps in the investigation.

Paul Haggis directs from his original screenplay based on a story by Mark Boal and Haggis. This will be Haggis' directing follow-up to the Academy Award-winning "Crash." In addition to the Oscar-winning screenplay for "Crash"; his recent writing credits include the award-winning "Million Dollar Baby," for which he received an Academy Award-nomination for Best Screenplay, and current releases "The Last Kiss," "Flags of Our Fathers," "Casino Royale" and "Letters From Iwo Jima."

The film is produced by Paul Haggis, Larry Becsey, Patrick Wachsberger, Steve Samuels and Darlene Caamano Loquet. A Summit Entertainment and Samuels Media presentation in association with Nala Films and Blackfriars Bridge.

Written and Directed by: Paul Haggis

Cast: Tommy Lee Jones, Charlize Theron, Susan Sarandon, Jason Patric

This film is Rated R.

Nationwide release September 21, 2007.
Feedback, submissions, ideas? Email jenlapuz@charter.net